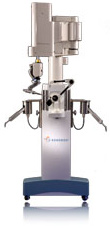 ORTHODOC® provides exceptional accuracy in component selection, placement, surface preparation and soft tissue management. Meanwhile, the ROBODOC® Surgical Assistant implements the pre-surgical plan with unparalleled precision.
The ORTHODOC® Preoperative Planning Workstation provides the surgeon with 3D information and easy point-and-click control.
The pre-surgical planning begins as ORTHODOC converts a CT scan of the individual patient's joint into a 3-dimensional virtual bone image which the surgeon can manipulate to view bone and joint characteristics. In this way ORTHODOC® enables the surgeon to perform a simulated surgery allowing for exploration of several surgical plan options without risk to the patient or expending valuable surgical time.
A prosthetic image is selected from the ORTHODOC's extensive digital library of options from major manufacturers.
The surgeon is then able to manipulate the three-dimensional model of the prosthesis against the CT bone image, allowing for optimal prosthetic selection and alignment.

Through ORTHODOC®, this virtual surgery creates a precise preoperative plan that is meticulously customized for each patient.
The preoperative plan created on ORTHODOC® is then electronically transferred to the ROBODOC® Surgical Assistant.
This advanced surgical robot can execute the preoperative plan with a degree of precision and reliability that is unparalleled. Using controlled, gentle pressure the ROBODOC® mills the bone with sub-millimeter accuracy exactly as specified by the plan.
The action of the high-speed drill equipped robotic arm has also proven to be more precise than manual preparation techniques.
ROBODOC's specialized drill bits and other hardware have been developed for accurately preparing the bone to achieve optimal fit of the prosthetic implant. The robot mills cavities for hip implants, removes bone cement for revision surgeries, and planes the femoral and tibia surfaces for knee implants.
Based on extensive clinical studies ORTHODOC® and the ROBODOC® Surgical Assistant work together seamlessly to ensure the ROBODOC® Surgical System provides better overall precision in total joint replacement procedures. Benefits of the ROBODOC® System over traditional methods include improved cavity fit, fill and alignment for prosthetic implants1,2,4 as well as a reduction of leg length discrepancy2, intra-operative fractures1,3 and pulmonary emboli5.
( Reference : www.robodoc.com home page )